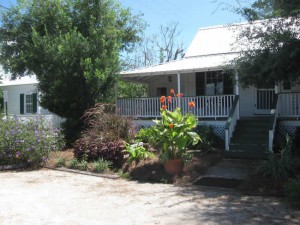 One of Apalachicola's nineteenth century examples of early Florida's unpretentious wood-frame vernacular architecture, this historic cottage has been tastefully renovated and equipped with modern conveniences to provide guests all the privacy and comforts of home.
Located within an easy stroll of the historic riverfront, restaurants, art galleries, and shopping, the Raney Guest Cottage is available year round from an overnight getaway to a fortnight stay.
The cottage features a master bedroom with a queen- size bed.; the second bedroom is furnished with two single beds. Each bedroom has its own private bath. (One is equipped with a shower, the other with a footed bathtub). The cottage also contains a fully-equipped kitchen and separate dining room, screened back porch, WiFi, flat screen TV, central heat & air, washer/dryer.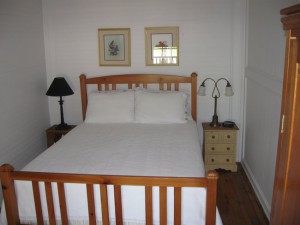 Towels and linens are furnished.
Frequently referred to as Florida's Forgotten Coast, Apalachicola and its historic structures take one back to a time when cotton was king, the seaport was one of the busiest in the Union, and travel depended primarily upon waterways. Fondly called "Apalach" by locals , this place is the stuff of which Gloria Jahoda wrote when she penned "The Other Florida".
A working fishing village, Apalach is situated at the point where the estuary of the Apalachicola River meets the Gulf of Mexico. In addition to authenticity, visitors are afforded countless opportunities to enjoy charter fishing excursions, superb fresh seafood, kayaking, bicycling, hiking, bird watching, horseback riding, and sunbathing on nearby St. George Island.
REGRETTABLY, PETS CANNOT BE ACCOMMODATED. Please contact the Apalachicola Bay Area Chamber of Commerce (850- 653-9419) for pet-friendly vacation rentals.
Amenities
Central heat and air-conditioning, two bedrooms, two full baths, dining room, fully-equipped kitchen, screened back porch, TV, washer/dryer. Towels and linens furnished.
Rates
The rental rate is $175.00 per night which DOES NOT INCLUDE STATE & LOCAL TAXES. Tax rates in effect at time of booking can be ascertained by contacting the cottage manager at 850-653-7196 or requesting that information when sending an inquiry through TripAdvisor or FlipKey. The seventh night of weekly rentals is complimentary. Click here to view more information and see availability.